Below is a list of officers for the Canton of Axed Root. Feel free to contact them by email with any questions you have that are covered by their office. If you have a question that is not covered by an office listed below, contact the Seneschal.
Seneschal – gro.t1539837253oorde1539837253xa@la1539837253hcsen1539837253es1539837253

Lord Amon Attwood
The Seneschal's duties include many of the duties of a President in other organizations. The Seneschal is the legal representative for the Canton and oversees public relations and contact with those outside the Society.
Chatelaine – gro.t1539837253oorde1539837253xa@en1539837253ialet1539837253ahc1539837253


Vacant: Please contact the Seneschal for more information.
The Chatelaine is the Newcomer Coordinator for the Canton and is in charge of helping new members integrate themselves within the Society. The Chatelaine also maintains the Canton's "Gold Key" collection (loaner items, such as garb or feast gear, for new members and guests).
Chancellor of the Exchequer – gro.t1539837253oorde1539837253xa@re1539837253uqehc1539837253xe1539837253

Lady Elenora of Axed Root
The Exchequer handles all financial matters for the Canton.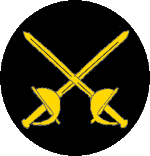 Cut and Thrust Marshal – gro.t1539837253oorde1539837253xa@ts1539837253urhtd1539837253natuc1539837253
Lord Giovanni Loredan
The Cut and Thrust provides and oversees rattan combat training for members of the Canton and coordinates loaner armor for the use of new fighters.
Minister of Arts and Sciences – gro.t1539837253oorde1539837253xa@sa1539837253om1539837253


Lady Susanna d'Arbe
The Minister of Arts & Sciences coordinates A&S activities and projects for members of the Canton. Encourages the practice of Medieval and Renaissance practices for A&S projects.
Herald – gro.t1539837253oorde1539837253xa@dl1539837253areh1539837253

Lady Caitilín inghean Uí Lochlain
The Canton Herald assists populace with researching and registering their SCA names and armory (coat of arms). In addition, the Herald maintains a list of awards earned by members and a group Order of Precedence and makes announcements at tournaments and courts.
Chronicler – gro.t1539837253oorde1539837253xa@re1539837253lcino1539837253rhc1539837253

Vacant: Please contact the Seneschal for more information.
The Chronicler coordinates the publication of the Copse, the Canton's newsletter.
Webminister – gro.t1539837253oorde1539837253xa@re1539837253tsini1539837253mbew1539837253


Mistress Kristine nic Taillier
The Webminister maintains and coordinates the internet presence of the Canton.